Coaches & Consultants
Are You Ready to Serve More People
and

Make More Money?
That's the benefit an online course can bring to your business.
Get started now →
You're an expert in your field and get great results for your clients.
Why not package and monetize that expertise so that you can reach more people and increase your revenue at the same time?
By adding a 'one to many' offer to your business, you can create a scalable stream of revenue that will help you to grow without sacrificing more of your time and energy.
If your business relies mainly on 1:1 services, you're trading time for money and will eventually hit a ceiling where you cannot grow your revenue because your calendar is booked and your to-do list is never ending. Plus, you may have people who are waiting to work with you but can't get access to you because your schedule is full.
The solution to this is an online course. By creating an online course, you can package the same processes, training and resources that you give your 1:1 clients into self-paced video or audio lessons that your students can access anytime, anywhere and go through it at their own pace.
But the question is where do you start? There's so much to learn when it comes to creating and launching a course, and you don't want to waste valuable time or make mistakes trying to figure it out on your own. That's where I come in!
I help coaches and consultants to create and launch online courses with Kajabi as quickly and easily as possible so they can grow their income and impact without burning out. Learn how to get started
below

⬇
Free Kajabi Course Launch Checklist
Save time and reduce overwhelm by following a clear blueprint for launching an online course with Kajabi. This checklist lays out the steps to follow for the 3 key phases of creating, marketing, and selling an online course.
Learn More →
Kajabi Crash Course
By the end of this simple 5-step, beginner-friendly course, you'll be navigating Kajabi like a pro and ready to start selling your first digital product so that you can grow your online business with less stress and hustle!
Learn More →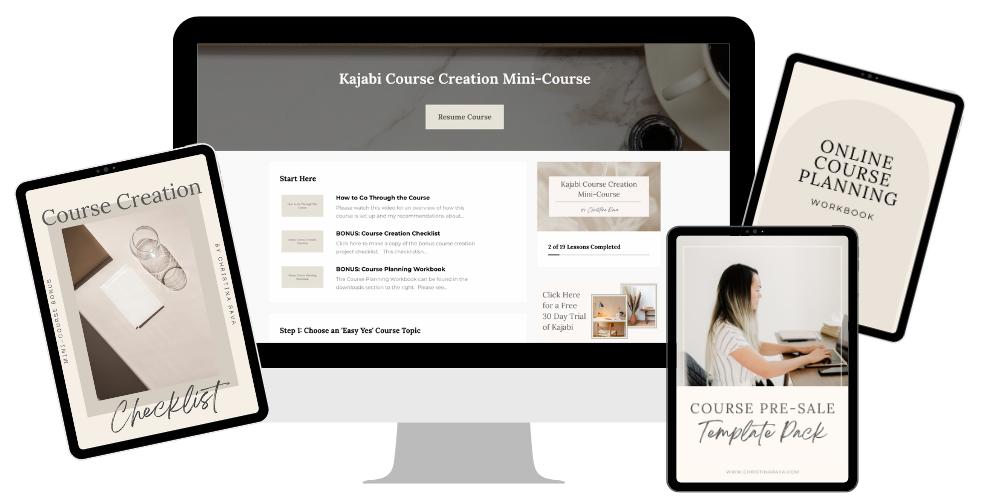 Kajabi Course Creation Mini-Course
The Kajabi Course Creation Mini-Course includes everything you need to move past time barriers and tech overwhelm and get your online course set up in Kajabi in a matter of days - not weeks or months!
Learn More →
Hi there, I'm Christina Rava —
I can help you to scale your online coaching or consulting business by working with you to:
Strategically plan out the your profitable online course offer

Generate leads by building an email list of your ideal students

Set up a seamless system in Kajabi for marketing and selling your course
I know that as a successful online business owner you're strapped for time, so my goal is to help you get results quickly by taking advantage of time-saving resources, setting up automated systems, and strategically setting up your offer and marketing to convert to sales.
Christina pays attention to the smallest detail to make sure that everything is meticulously laid out for a successful course launch.
"When working with Christina, you have no reason to look anywhere else for help with getting your course set up. She is extremely knowledgeable and exceptional with the support she offers and pays attention to the smallest detail to make sure that everything is meticulously laid out for a successful course launch."
~ Verna L.
Don't forget your free download!
The Kajabi Course Launch Checklist
By following the simple 3-phase process laid out in this checklist, you can be on your way to launching a profitable online course so that you can serve more people and scale your coaching or consulting business to 5-figure months!